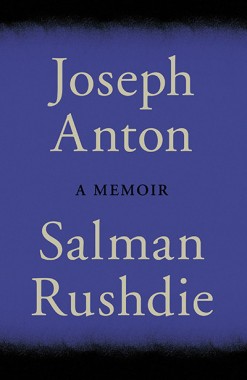 Joseph Anton. A Memoir (London, 2012) (cover left) is a memoir by Salman Rushdie.

On Valentine's Day, 14 February 1989, Ayatollah Ruhollah Khomeini, the Supreme Leader of Iran, issued a legal edict (a fatwa) against Rushdie on the grounds that his novel The Satanic Verses (London, 1988) blasphemed against the Prophet Muhammad. Rushdie spent several years in hiding, using the pseudonym Joseph Anton (a name he chose to honour the writers Joseph Conrad and Anton Chekhov). Joseph Anton. A Memoir is his account of his life in hiding; but it is described as a memoir rather than autobiography because it is written in the third (rather than the first) person.
In the Autumn of 1989, he was invited by the Institute of Contemporary Arts (ICA) in London to deliver the 1990 Herbert Reade Memorial Lecture. Joseph Anton takes up the story:

He knew at once that he wanted to write about iconoclasm, to say that in an open society no ideas or beliefs could be ring-fenced or given immunity from challenges of all sorts, philosophical, satirical, profound, superficial, gleeful, irreverent or smart. All liberty required was that the space for discourse itself be protected.
…