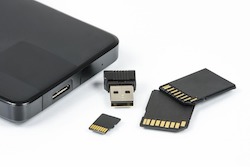 Have you ever transferred music from one device to another? Have you copied music from a CD to your phone to listen to it on the way to work? Have you copied a DVD to a tablet to watch it on a long journey? If so, you have probably infringed copyright, almost certainly without realizing it.
Have you every backed-up the data on your phone, or your laptop? Of course, most of us don't back-up as often as we should; but, if you do, then you have probably infringed copyright, again almost certainly without realizing it.
Moving data from one format or device to another is known as format-shifting, and both it and backing-up mean that you are making copies of the relevant content or data. Making those copies is an infringement of copyright, unless you have the permission of the copyright owner (which usually you won't have), or you can rely on a copyright exception provided by copyright legislation (which right now, in Ireland, you can't).
There is no good reason why format-shifting or backing-up should be an infringement of copyright. And there are many good reasons why it should not. In particular, the fact that you didn't realize that format-shifting or backing-up are infringements of copyright demonstrates that consumers assume that format-shifting and backing-up are perfectly normal behaviour. These are ubiquitous practices in the digital age, and copyright law should not frustrate such legitimate consumer assumptions.
These exceptions are permitted by the EU's 2001 Copyright Directive, and they have long formed part of the law in most European countries. Many common law countries have looked at this issue in the recent past, and have concluded that they too should introduce these exceptions. A Bill currently before the Seanad is a golden opportunity for Irish law to do likewise.
Exceptions to copyright are often described as fair dealing, and the Bill ought to be be amended to provide explicitly that format-shifting and backing-up should be regarded as fair dealing too.
However, considerations of fairness require that copyright owners should be compensated for any harm done to them by this fair dealing. In other countries where such exceptions exist, copyright owners receive such fair compensation from levies upon the manufacturers and importers of the blank recording media to which the data is transferred. In this way, a fair balance between the rights of consumers and copyright owners is achieved. Hence, the Bill ought also to be amended to provide such a scheme.