Well, I mean, yes idealism, yes the dignity of pure research, yes the pursuit of truth in all its forms, but there comes a point I'm afraid where you begin to suspect that if there's any real truth, it's that the entire multi-dimensional infinity of the Universe is almost certainly being run by a bunch of maniacs. And if it comes to a choice between spending yet another 10 million years finding that out, and on the other hand just taking the money and running, then I for one could do with the exercise.

Frankie, one of the white mice in Chapter 31 of The Hitchhikers' Guide to the Galaxy by Douglas Adams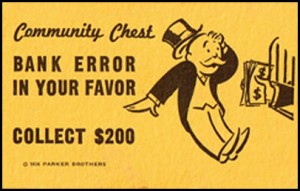 It seems that a New Zealand couple, faced with a bank error in their favour of NZ$10m (€4.5m), similarly decided that they could do with the exercise: they, too, took the money, and ran; David Randall brings the story up to date in today's Independent on Sunday (substantially reprinted in today's Sunday Tribune:
A month ago, Leo Gao and his girlfriend Kara [Hurring] were like millions of couples around the world as they struggled to pay their bills and keep their business [a filling station] afloat. Today, they are the subject of an international hue and cry, leaving lawsuits, huffing and puffing private detectives and puzzled police on two continents in their wake. And all because of a mark on a computer screen one fortieth of an inch across …

They were ticketed through to Hong Kong, and had landed and cleared the usual channels before Westpac realised their error. … They moved on to Macau, and started spending like there was no tomorrow, which, in their case, was a plausible assumption. … These days, when taking money off a bank is regarded not so much as a crime as a service to the community, Mr Gao has his admirers. Hundreds have signed up to three Facebook groups, including one with an authentically Down-Under title: "Go Leo Gao – Go You Good Thing".

But this is not an entirely victimless caper. A family has been divided by greed, poor father of three Mr Antony has lost his job at the filling station, tenants don't know if they'll still have a home, and, back in Christchurch, the woman who forgot the decimal point is undergoing trauma counselling. Meanwhile, somewhere in Asia, the spending goes on.
Update (19 Sept 2022): Things did not entirely work out for them: in May 2010, Hurring contacted New Zealand police offering to return home; she was arrested by police when she landed at Auckland airport; she was eventually sentenced to nine months home detention and made to return around St£6,000. Gao had travelled to mainland China, which has no extradition treaty with New Zealand; but when he crossed the border into Hong Kong – which does have a treaty – he was arrested; in New Zealand, he pleaded guilty to theft, and was released from prison in 2013 after serving 16 months.
This is a much more frequent occurrence than might be thought. For example, in December of last year, a bank informed a customer that they would advance her an overdraft of St84m, though – unlike the New Zealand couple – in the event the overdraft wasn't activated! The following month, The Register reported the best excuse given by a customer in receipt of a bank overpayment:
A Pennsylvania man is languishing in county jail after he and his wife withdrew more than $175,000 erroneously credited to their bank account and legged it to Florida, … He described the money as "a gift from God", … A judge was less than impressed with the divine intervention defence, and refused to demonstrate Christian charity by lowering Randy Pratt's $100,000 bail. His wife, though, is out on unsecured bail, having told the court she's "estranged from her husband".
How stupid were they? Let Sean Carter count the ways.
There have even been Irish examples. In February, Eoin Butler of the Irish Times lightheartedly shared his experiences of being made temporarily richer by his bank. Rather more seriously, in 2001, a Bank of Ireland customer intending to emigrate to Spain had asked for St£1,500 to be converted into pesetas and lodged into his Spanish account. However, instead of lodging 316,900 pesetas, the cashier wrote 316,900 euros on the slip and lodged that amount to the customer's account. According to various news reports at the time, the customer declined to return the money to the bank.
This is a dangerous attitude to take, as retaining money in such circumstances amounts to theft. So, in February 2008, a New Yorker who discovered that millions of dollars had mysteriously appeared in his bank account, and who withdrew more than US$2 million, was charged with grand larceny for doing so; and in August 2007, a woman from Blackburn in Lancashire whose bank balance went from St£6.59 to St£135,000 and who spent the money, was convicted of theft. Moreover, the relevant legislation contains a provision allowing the court to order the recipient to return the money.
However, even if no criminal proceedings are commenced, the recipient will still be liable to return the money. As Skepticlawyer points out, this is staple fare for restitution lawyers, and, in a forthcoming post, I'll tease through some of the restitution issues that arise. In the meantime, if you have are aware of equivalent stories, please let me know about them in the comments.