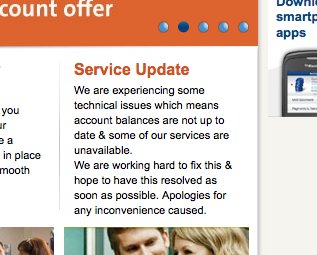 td>

The above announcement currently appears on the Ulster Bank home page. It simply says that the bank is experiencing "some technical issues", as a result of which some "account balances are not up to date" and some "services are unavailable". When this happened to the Bank of Ireland the Christmas before last, it meant that some of its customers were able to make ATM withdrawals of amounts greater than their available funds or credit. I am not a customer of Ulster Bank. Nor do I know whether their "technical issues" are affecting their ATMs. However, if they are, then – as I said at the time of the Bank of Ireland error and earlier – making excess withdrawals in such circumstances is not a good idea. Those withdrawals will have to be repaid, either by virtue of the terms and conditions of the contract between the bank and the customer, or because of the legal duty to make restitution of mistaken payments received.
Worse, such withdrawals often amount to theft. A story in the Daily Edge stream of the TheJournal.ie today makes the point rather graphically:
A DETROIT MAN faces 15 months in jail, and a court order to pay $1.5 million to his bank, after a glitch allowed him to withdraw unlimited cash from his bank account – which he then lost to his gambling habit. …

ABC News reports that once he became aware of this error, in August 2009, he withdrew $1,543,104 (€1.21 million) within 17 days – but sadly appears to have blown it all on a gambling habit. …
Bank errors are not a licence to gamble. Unfortunately, despite the Monopoly game Community Chest card, they are rarely in your favour. If and when they happen, your best bet is to contact the bank and inform them of the error – who knows, they might let you keep the interest.