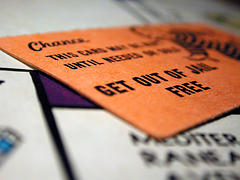 In the board-game Monopoly, one of the cards that you can get by landing on 'Chance' is 'Get out of jail free'. If you are sent to jail during the game, you can use the card to 'escape' immediately, without having to cool your heels for the three turns otherwise mandated by the rules. It is as about a useful guide for life as the its fellow Monopoly 'Community Chest' card, which tells you that you can keep the proceeds of a bank error in your favour. Unfortunately, you can't; and spending it is straightforward theft, as is well illustrated by a story in today's Irish Independent:
Karl Smith was due €200

A teenager who had "an incredible temptation presented to him" two days after his 19th birthday when his former employer mistakenly lodged almost €20,000 into account has been jailed for theft. …

Judge Melanie Greally sentenced Smith to four years in prison with the final two years suspended.
There is more on this case here, here, here and here. This is not the only time this kind of thing has happened, though it certainly seems to be the most unlucky defendant. Here's a spectacular example from Australia:
About $1 million has been recovered but the rest was spent on luxury items, police say

A Malaysian student has been charged in a Sydney court with dishonesty offenses after a bank accidentally gave her a $4.6 million Australian ($4.3 million Cdn) overdraft four years ago.
The matter came to light last Summer; Lee appeared in court last month; and the case is still ongoing. [Update: the charges were eventually dropped, but she was declared bankrupt, and the bank had "taken all possible steps to recover its funds". End update] Nor is today's case the only Irish example; here's another:
A mum-of-two accused of going on a €25,000 spending spree after a sum of money was mistakenly lodged in her bank account has been sent for trial

The accused … is facing more than 50 charges of theft, relating to stealing in excess of €25,000 in cash belonging to Bank of Ireland, which had been mistakenly lodged to her account. … The thefts are all alleged to have taken place over a two-week period in March 2013. … The money was allegedly withdrawn … from a number of ATMs across west Dublin.
There are earlier stages of this case here, here, here and here, and the case is still ongoing. Update (29 Jan 2017): she has pleaded guilty to theft, and the matter has been put back for sentencing in April (see here, here, here and here). Further update (4 April 2017): she was much luckier than Karl Smith in the first story above; she was sentenced to 150 hours of community service in lieu of an 18 month prison sentence, and to pay the bank back one thousand euro within the next 18 months (see here, here, here, here, here and here; [update: also here]):
A single mother who went on a "massive spending spree" after a bank accidentally deposited €51,000 into her bank account has received a suspended jail sentence.

[The young mother] … spent €25,000 on items for her two children, including clothes and shoes, Dublin Circuit Criminal Court heard. For two weeks, [she] … ate out every night, took her friends and family out for dinner and bought gifts including two crystal vases and a "crystal mushroom lamp". …
Yet another update (9 May 2017): The cases just keep coming:
An unusual case of theft

A man who stole almost €8,000 from his own bank account after it held funds that didn't belong to him has avoided jail. …

Judge Melanie Greally accepted that it had not been a pre-meditated theft as the cash was "something that fell into his lap". She said though that it was very dishonest and the bank was at a significant loss. She described it as an "unusual case of theft" in that the funds had landed in McKee's bank account as an error, but that he had exploited that error by promptly spending them. …

Judge Greally sentenced McKee to 240 hours of community service in lieu of 12 months in prison, to be completed within a year.
(End of Updates)
All of these defendants would doubtless wish for a "get out of jail free" card, but it is likely to be as useful as the card that says to keep the proceeds of a bank error in your favour. When the Australian student was asked why she thought she had access to that much money, she said: "My parents give me lots of money". The Dublin single mum made no such claims, but the satirical site Waterford Whispers has her say that she thought that Bank Of Ireland were finally paying her back for the Bailout. As for the flabbergasted teen in today's story, he considered the windfall to be the answer to his prayers and "a gift from God". Update (4 April 2017): But, as the judge in the case of spending-spree mum remarked "if it's too good to be true, it is because it is too good to be true".
As I have said on this site, a bank error in your favour is not a gift from God; an overactive ATM is not santa, and the scrooge bank will have to be repaid; bank errors are not a licence to gamble; and keeping the proceeds of a bank error in your favour can amount to theft, whether the error is from overpayments or overactive ATMs. The moral is clear – Chance and Community Chest cards are not a useful guide to life, however much fun they are when playing Monopoly.