Over the last week or so, there have been some interesting developments on issues that have recently been the subjects of posts on this blogs.
Below the fold: censorship and freedom of expression (online, and in respect of films), privacy (online resources, and google), and the celtic tiger (for the hell of it).

Following on from my post about the struggle for freedom of expression in cyberspace, the BBC has reported that Censorship 'changes face of net':
Amnesty International has warned that the internet "could change beyond all recognition" unless action is taken against the erosion of online freedoms.

The warning comes ahead of a conference organised by Amnesty, where victims of repression will outline their plights.
A webcast of the conference is available here, and is well worth a listen.
Following on from my post about Morrison & Foerster's International Privacy Library, in which I commented that they had left out some important Irish resources, well, their efficient little search robots found the post, and they added a comment to it that they have updated their site to include the other links as a consequence. Well done, Morrison & Foerster. Here's a screen-shot of the updated Ireland page: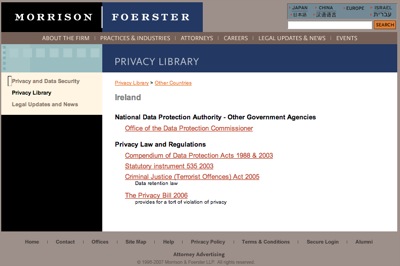 It's a very good site, well worth bookmarking, saving to del.icio.us, etc, and the fact that they were so quick to update is very reassuring.
Following on from my post about the Irish Film Censor's Office (IFCO) ,I learn from an article by Shane Hegarty in the Irish Times (12 June) that the Irish authorities were so fearful of the rise of communism during the 1920s and 1930s that government officials and police went to see Russian movies to assess their propaganda value, according to Department of Justice files made available at the National Archives for the first time yesterday. Of The Battleship Potemkin (imdb | wikipedia), they said:
This is the most dramatic and important film that has been turned in Russia. It is pure Bolshevik propaganda, very powerful and convincing, and amazingly well produced.
Penultimately, following on from my post about the Article 29 Working Party's concerns about Google's privacy policies, comes news that Privacy International's Consulatation Report: A Race to the Bottom – Privacy Ranking of Internet Service Companies (hat tip: BBC) has found that Google has the worst privacy policy of popular net firms, and has therefore rated them as "hostile" to privacy, to say nothing of the furore over Google Maps Street View, a development that might well be illegal in Europe.
Finally, and à propos of nothing at all on this blog, the Celtic Tiger died last week. There have been many stories about its demise already, and there will be many more. But, last week, there occurred an event unremarked by the economic commentariat which I think will nevertheless come to be seen as symbolizing the end of an era. Just as Moya Doherty and John McColgan's Riverdance at the 1994 Eurovision Song Contest in Dublin might in retrospect be taken as a cultural reference for the beginning of the Celtic Tiger, symbolizing in many ways our newfound confidence as well as our improving economy, so the failure last week of their Broadway extravaganza The Pirate Queen may yet also be taken as a cultural reference for the end of that kind of unbounded optimism and opulent dissipation.