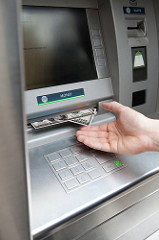 In June 2012, a massive IT failure affected all of Ulster Bank's ATMs, and many customers sought to take advantage by making multiple withdrawals of cash which they did not have in their accounts. As I have commented many times on this blog, in the case of overactive ATMs, overpayments, and theft, a bank error in your favour is not a gift from God; an overactive ATM is not santa, and the scrooge bank will have to be repaid; bank errors are not a licence to gamble; and keeping the proceeds of a bank error in your favour can amount to theft.
However, in a recent prosecution of a man who managed to withdraw €13,600 from Ulster Bank ATMs during the IT failure, the judge dismissed the case as the prosecution failed to prove Ulster Bank did not consent to the withdrawals, and the State had failed to prove the bank existed. The defendant was charged with 23 counts of stealing cash, the property of "Ulster Bank Ireland Ltd", and whilst there was evidence of various entities associated with Ulster Bank, the judge held that there was no documentary proof of a properly incorporated legal entity called "Ulster Bank Ireland Ltd" put before the jury, and he therefore directed the jury to acquit the defendant.
The defendant was not the only person in this boat. The bank investigated 100s of cases around the systems fault, around 30 customers were reported to Gardaí, and there already have been successful prosecutions. This directed acquittal will be an one-off; I expect that the proofs in future prosecutions will be more than sufficient.
Update (25 January 2018): here's a case where the proofs were sufficient, but the judge was – unusually – lenient:
A soldier who fraudulently withdrew more than €13,000 when Ulster Bank experienced a software failure more than five years ago will be left without a conviction if he makes a contribution to charity.

Thomas Brannigan (32) made 45 cash withdrawals from an Ulster Bank ATM in Tallaght on one day in June 2012. Due to a glitch in the bank's computer system, he was able to take a total of €13,250 from his account even though he only had €500 in it. A court heard that Brannigan had since repaid all the money. Judge John Lindsay said he would leave Brannigan without a conviction if he donated €500 to the Irish Handicapped Children's Pilgrim Trust. …