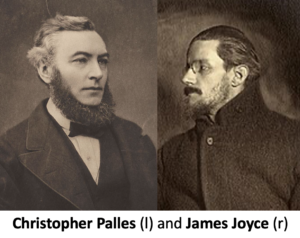 I was reminded (plug alert) of my piece "The Aeolus Episode in Ulysses and the Freeman's Journal: Chief Baron Palles and the law of defamation", chapter 12 in Oonagh B Breen & Noel McGrath (eds) Palles. The Legal Legacy of the last Lord Chief Baron (Four Courts Press, 2022) (noted here), when I had the pleasure of reading the recent re-publication of Brian McMahon's article (first published: Law Society Gazette, October 2004, 12), focusing on Dublin's legal fraternity in Ulysses by James Joyce (pictured left, on the right).
To celebrate the 100th anniversary this year of the publication of Ulysses by Syliva Beach in Paris, this month's Law Society Gazette (October 2022 (pdf), 41) has reproduced McMahon's excellent and entertaining article.
Here are some extracts from it about three minor elements of the book that raise interesting issues of a legal nature:
James Joyce's Ulysses is set in Dublin on 16 June 1904, and its two principal characters are Leopold Bloom and Stephen Dedalus. Bloom is the novel's hero, and his journey around Dublin echoes Odysseus' journey in Homer's Odyssey. …

… Martin Cunningham tells … Bloom, how Reuben J's son tried to commit suicide by jumping into the Liffey, but was saved by a workman who was rewarded with a florin.
…